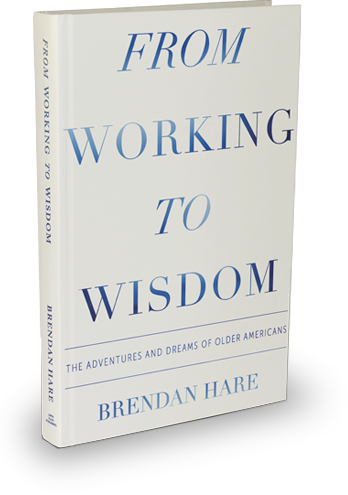 From Working to Wisdom is a book of stories. Inside are the voices of forty-six older Americans, drawn from all corners of life, all speaking to us directly, telling us of their memories, adventures, regrets, dreams, and hopes.
This is also a book about stories —about the way that reading another person's life story can help us to understand our own.
Read an Excerpt | Order on Amazon
The Adventures and Dreams of Older Americans
How do we find meaning and happiness as we age?
A remarkable group of Americans—including a big-city Mayor, an adventurer, a missionary, a Marine Corps general, as well as athletes, philanthropists, factory workers, nurses, and teachers—discuss their thoughts and feelings about growing older.
They show rather than tell how to age with authenticity, vitality, and hope. The resulting book is many things: a series of reflections on growing older; a store of insight and instruction; a sustained argument for the power of choosing, no matter the circumstance, to live well.
Roll over the photos below for glimpse into the lives and stories featured in From Working to Wisdom.